Fish
Mutriku offers a wide variety of fish.
Mutriku has traditionally been a port dedicated to inshore fishing and, therefore, species that approach the coast are caught throughout the different seasons of the year. However, its proximity to the port of Ondarroa, the mooring of an important number of deep-sea vessels, means that you can savour all kinds of fish in the town, which is always of great quality and freshness.
Atlantic Mackerel
This is a delicious fish, with outstanding nutritional qualities due to its high content of high quality proteins and omega-3.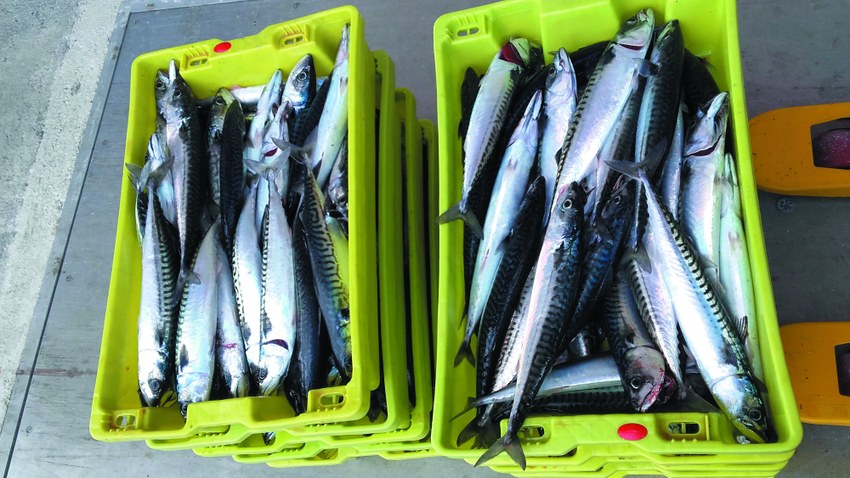 The fishing of this species occurs between February and April, although it can change slightly depending on the year. 
Mackerel or Atlantic Mackerel is a fish associated with Mutriku. 
For 20 years the municipality has held the Festivities of the Mackerel, well-known throughout the region. Undoubtedly, this fish carries a special meaning for the Mutrikuarras. 
Anchovy
Every spring, the Cantabrian coasts receive high-quality anchovy, being some of the best in the world, and this fish has become the basis of the canning industry in Mutriku.
Tuna
It is a blue fish that approaches our coasts during summer. This high-quality fish is still traditionally fished using a fishing rod. It is very much appreciated and highly valued in the local cuisine, especially when it is prepared baked or as marmitako (bonito stew).
Squid
Squid is caught along the coasts using traditional techniques. It is the local fisherfolk who bring this delicacy into port on their small boats. This delicious cephalopod mollusc is the basis of one of the most emblematic dishes of Basque cuisine: Cuttlefish in its own ink. However, it is delicious when cooked in many other ways: fried, grilled, with onion, etc.
Monkfish
This fish is a regular on the menus at restaurants along the Basque coast. This is an ugly looking fish, but it has a texture and flavour that is very much appreciated in local cuisine, especially when cooked on the grill. This is an offshore fish that is usually brought in from the neighbouring port of Ondarroa.
Hake
In Mutriku there are two types of hake. One, which is line-caught by the inshore vessels and the other by dragnets, which is fished offshore and usually comes in from the port of Ondarroa. The most traditional way to cook this fish is in green sauce. Although, it can be cooked in many other ways. Specifically, in Mutriku it is common to find battered hake or "Pla-pla".